This shop has been compensated by Collective Bias, Inc. and its advertiser. All opinions are mine alone. #GameDayGoldfish #CollectiveBias
Who's ready for the Big Game?? In all honesty, I am not super into football but I love hanging out with family and friends so it is just another reason to have a gathering, right?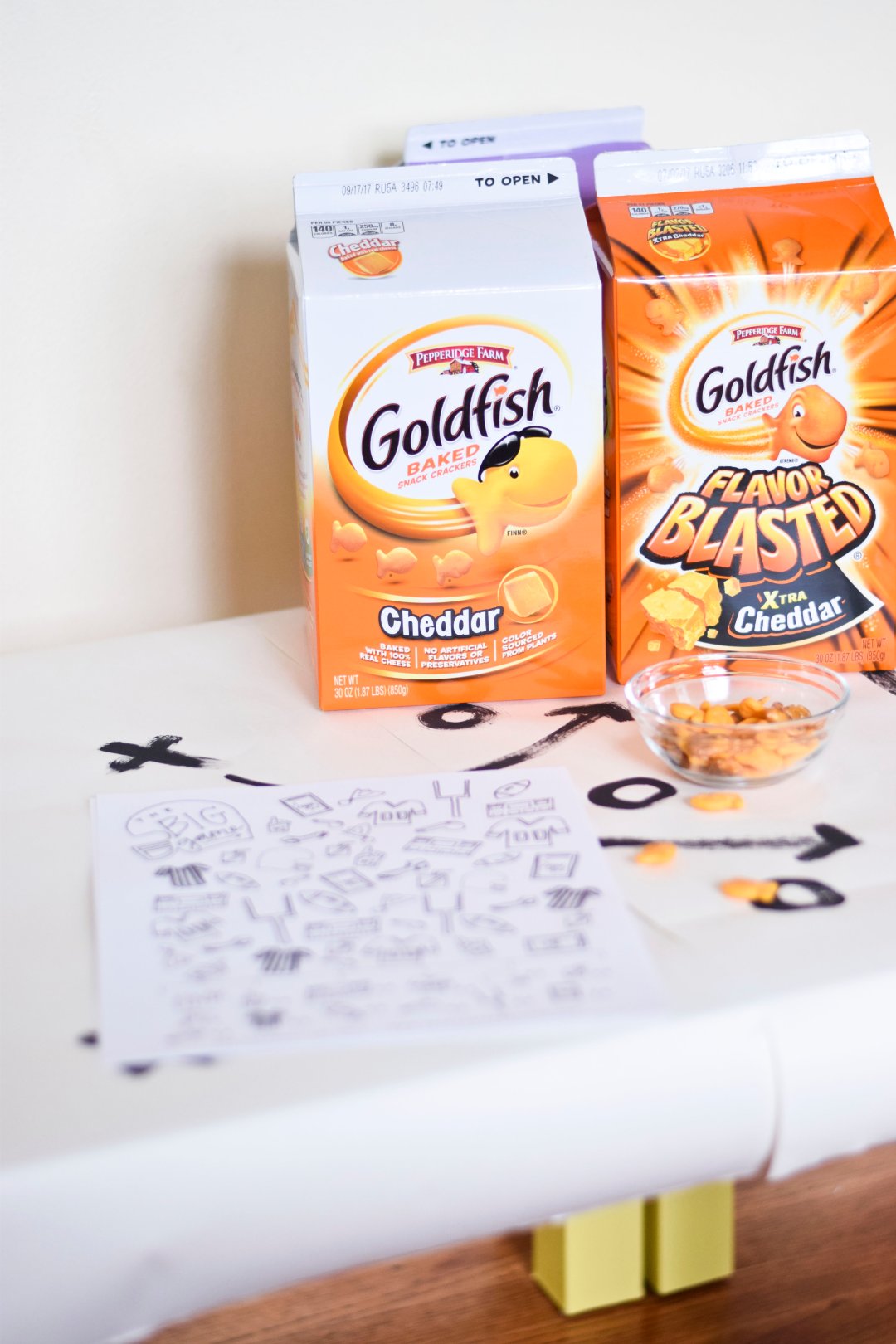 We watched a college football game the other night and while my oldest son and husband were completely enthralled in the football game, my younger kids were over it. "Mooooom! This is so boring!" is just one of the phrases we heard during the game. They just wanted to do something else. This was supposed to be a family activity and if we all were in separate rooms doing completely different things it would kind of defeat the point of "family time." I wondered if this would repeat itself during the Big Game. I didn't want the kids to be bored, but I still wanted us to be together as a family. I know it is cheesy but my husband and his dad and brothers would watch football all the time. It is one of his favorite memories. While I don't particularly love football I just like doing stuff with the family. So I thought I'd use some Goldfish® crackers and my love for drawing together to make something entertaining for my kids.
My younger son is incredibly good at finding things: my husband's wedding band, a little heart token from my mother in law, my keys, etc. And he loves games where he can find things- we call him "Eagle Eyes." He prides himself on being able to spot things and I think it is because he is very detailed oriented. He was so excited when he found books of hidden items and mazes in his stocking. I figured I'd create something he would enjoy doing as a family during the game….and of course he loves snacking.
While I love throwing very detailed parties on occasion, I wanted this to be more low key but still festive. I find that keeping it simple really reduces my stress level as the host and makes the party more enjoyable for me. In order to set this "Find It" Game up you need 3 things: a printer + this Free "Find It" Football Printable + Goldfish crackers. Make sure you use the Cartwheel app for 10% off the bulk size. Easy right? And guess what? My kids were entertained for quite a while and wanted to find the items over and over again. Perhaps it was because they got to eat the fruits of their labors afterwards? Hmmm. Not a bad deal.
If you really wanted to keep it simple, just print these out, put the Goldfish crackers in small cups or bowls and set them on a small table. I covered the table using a long roll of coloring paper and just painted "x" and "o" and arrows with some black paint. Hang a little banner and a print that says "Go Team!" and you have a cute little kid station.
Another way to use this printable could be after they are done finding the items, they can color it. And then they could place the Goldfish cracker on the item as they see it on the TV. 3 ways to use one printable! That should keep everyone entertained!
This fun football themed game isn't the only way you can get creative with your child this winter. Right now you can enter to win $5000 with your child by creating your own Goldfish Tales Animation Xperience at GoldfishSmiles.com.
Oh! And I went to Target and got boxes of Goldfish crackers. We got the Goldfish Cheddar 30 oz. Cartons, Xtra Cheddar Flavor Blasted Goldfish 30 oz. Cartons and Goldfish Mix Xtra Cheddar/Pretzel 34 oz. Cartons. They had 40% off using the Cartwheel app for the small bags when I went but Target has the Cartwheel Bulk Goldfish for 10% off now. Such a great deal because my kids love having these as snacks. Stock up for the Big Game!
If you want more ways to use Goldfish crackers to entertain the kids during the game look here: Pinterest Goldfish The Big Game! Board. Super creative and not limited to the Big Game- think football birthday parties or just rainy day activities. Good luck to your favorite team!